Romanticism in the Welsh Landscape
Pulpit Room, Owen Owen Gallery, Bridge & Tannery Gallery
A major exhibition of works from public and private collections to explore the seminal role of Wales in the origin and renewal of Romanticism, from the late eighteenth century to the present. Works by contemporary artists are set in the context of the 'father' of landscape painting, Richard Wilson of Penegoes, the great artists of the Romantic era and Neo-Romantics such as John Minton, John Piper and Graham Sutherland. Curated by Dr Peter Wakelin.
Steven G. Bonfield
The Language Landscape
Ruralist Room
Interactive paintings and sculptures filled with or covered by writing. Steven's work fuses contemporary poetics, fine art and design to create objects whose physical characteristics are indivisible from the poem. Each piece is made to be touched as well as seen and read.
Borth – Yma O Hyd
Foyer Gallery
On a shingle bank on the coast of Wales, surrounded by water on three sides, the village of Borth supports a defiantly individualistic, vibrant community. The photography of Bruce Cardwell, beautifully augmented by the insightful wordcraft of poet Elin ap Hywel and the evocative palette of painter Rhodri Evans, has created an intriguing portrait showcasing some of the many facets of this idiosyncratic village in Wales.
Glenn Morris
Anthropocene
Sculpture Space
'Anthropocene' is a sculptural response, by artist Glenn Morris, to the very real and enormous impact man has on the environment and the future of mankind itself. Three massive figures made of reclaimed materials will occupy the Sculpture Space, two of which have been made for this exhibition.
Jacob Buckland
Line and Colour
This is Jacob Buckland's first exhibition at MOMA Wales showing paintings especially created for this show.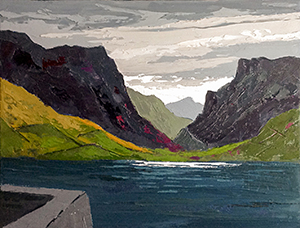 His work reflects personal observations and feelings about a place, focusing on rural Welsh landscape and nature, and has an intriguing ephemeral quality.
Wynne Jenkins
Summer Canvases
Through his painting Wynne Jenkins takes the opportunity to transform "everyday" scenes into an art form – the timelessness of Wales' seascapes and mountains artistically unfold. He prefers the challenge of the palette knife, rather than the brush "to express with precision the emotional response to nature".
Source: moma.machynlleth.org.uk
RELATED VIDEO
MIRACLE OFFICIAL MUSICVIDEO 2015 by MOMA
The MAGIC Of Bulgarian Voices Music - Malka Moma Little ...
2015 MOMA MUSIC FESTIVAL
Share this Post